Environmental Remediation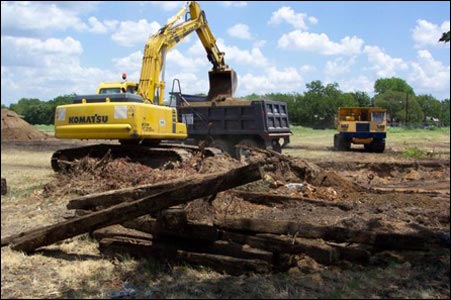 APOLLO® has a diverse level of experience in the field of Environmental Remediation including the following:
Site remediation of soil and groundwater including in situ and ex situ enhanced biological, stabilization, solidification, chemical fixation and oxidation, vapor extraction, or thermal, and other on-site waste treatments or remediation methods
Environmental and Geotechnical Drilling and Sampling Including Direct Push HSA, Air and Mud Rotary
Closure of pits, basins, impoundments, lagoons, sludge de-watering, etc.
Specialized decontamination and/or remediation of heavy metals (Mercury, Lead, Chromium, Etc.) and/or organics or other contaminants in soil, water, buildings, piping, tanks, etc.
Underground and Above Ground Storage Tank Cleaning and Removal W/ Vapor Recovery, De-watering, Water Treatment, Product Recovery, On-site Waste Minimization, and Corrective Action
Containment System Construction, MTR Cells and RCRA Cap and Cover Systems
PCB Clean-up and Decontamination, Component Decommissioning
Drum and Container Management Programs Which Include Drum Washing, Crushing and Recycling
API and CPI Separator Cleaning
Lab Packs
Cooling Tower Cleaning
Lead Decontamination and Abatement
Waste:

Sampling and Analysis
Packaging and Consolidation
Minimization and Reduction
Stabilization and Solidification
Transportation and Disposal
Treatment - De-watering, Neutralization, Thermal, Bio, Etc.